With "Reggae Survival" Raphael considers reggae his immortal language. This new album is a real cultural melting pot made strong by the powerful vibrations of the reggae music; recorded and mixed in Jamaica, US and Italy, produced by Don Sugar (Usa) and by Raphael too, supported by Bizzarri Records (Italy) and French label IRIE ITES.
The album is composed by 10 brand new songs and a dub version of the single "Dread inna Babylon". The album features the veteran Triston Palma (who also took care of some sessions in his studio in Kingston), Lion D, well known international artist from Italy featuring in "Who Dem a Pree" and the young Lasai, new upcoming artist from Spain, featuring in "Fallin". All brass sections were run and supervised by Dean "Cannon" Fraser, legendary Jamaican saxophonist and producer.
Raphael faces themes mainly related to social rights and human values, with a strong appeal to Africa and to his personal origins analyzing the world and his life in a very intense way.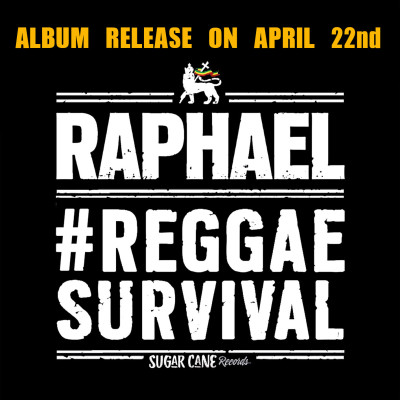 That's why Raphael decided to put some fragments of public speeches of two personalities who have deeply influenced the artist : Fela Kuti, the unforgettable king of Afrobeat and Josè "Pepe" Mujica, Uruguay's revolutionary ex president.
Back from the album tour, who had him touring all over Europe, Mexico and Jamaica, Raphael is now getting ready to step forward in his career. A new live tour with a new band is near, Rototom 2016 already confirmed him on the main stage.
‪Reggae Survival‬ now available on iTunes, LISTEN & SHARE IT!